Get a free quote for your Auto Insurance Hialeah
It only takes a few minutes
By clicking "SEND", I agree to receive marketing via newsletter, text, automatic telephone dialing system, or by artificial/pre-recorded message from UniVista Insurance and its agents and affiliates at the telephone number I have provided. I understand that my consent is not required as a condition of purchasing any goods or services.
Your safety and peace of mind, our satisfaction!
Within Miami communities, Hialeah is one of the most popular areas. Every year more and more people from our population gather. We are pleased to provide you with the best service at the best price for your Hialeah auto insurance.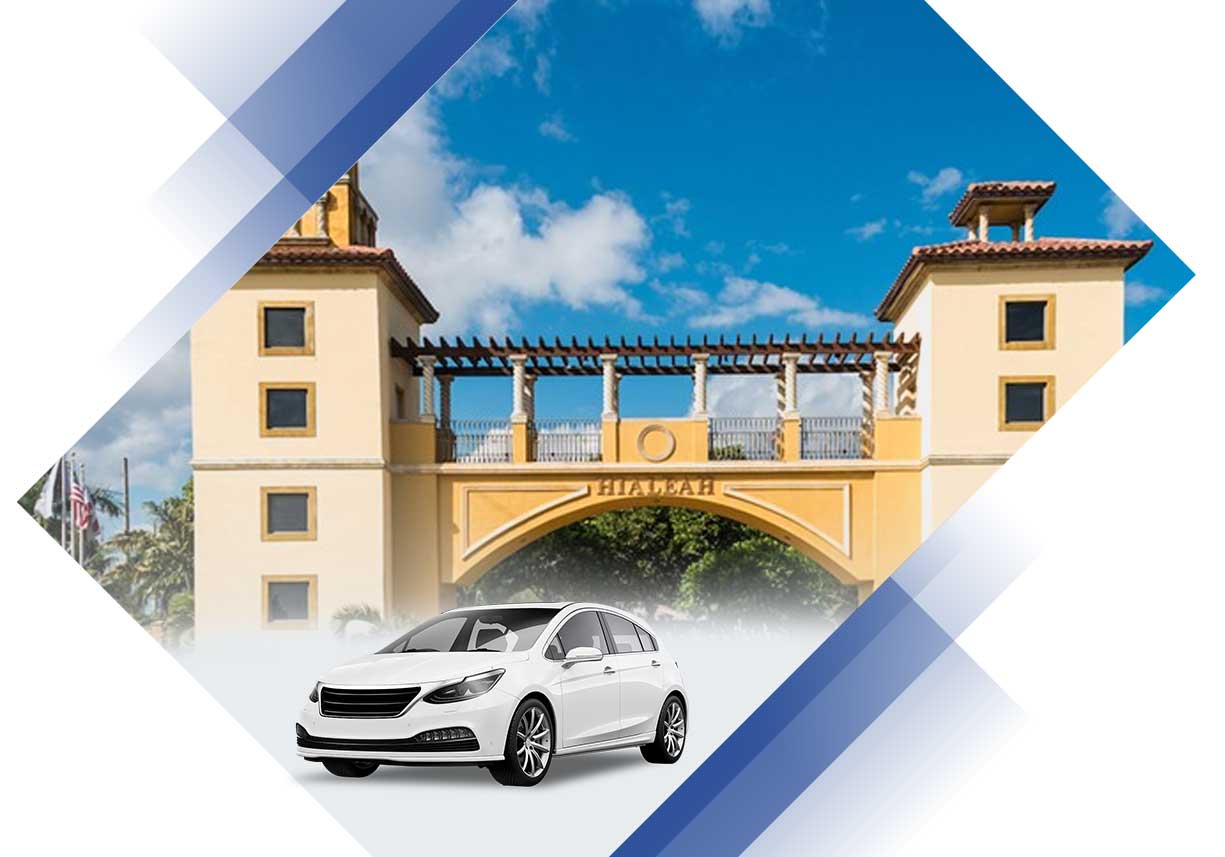 The reason you need car insurance in Hialeah
Hialeah is as many say "the city of progress", and the number of its residents increases every day. However, this leads to an increase in cars on city streets. Unfortunately it also involves a higher number of car accidents. Government statistics show that Florida has very high accident rates and this does not exclude Hialeah.
This situation brings as a consequence the increase of Hialeah auto insurance, since more and more people are looking to insure. In addition, the law prohibits driving without insurance, so it is best not to risk being stopped by the Hialeah police without having car insurance. You could have a criminal record. Avoid losing your license or even losing your car if it becomes seriously damaged and you cannot repay the cost of the repair. You could also find yourself in a lawsuit and not have protection against it.
Types of car coverage in Hialeah
In Hialeah we have cars that are both sedan, coupe, convertible, off-road or many others. It doesn't matter if you have a custom car or a luxurious limousine, we insure them all. We are Univista Hialeah Auto Insurance and we cover Hialeah.
Auto insurance Hialeah isn't just something you must own; it's something you want to own. You take good care of your car, sparing no maintenance costs and it shows.
The last thing you need is for an irresponsible driver without insurance to ruin your trip.
The insurance companies we represent provide auto insurance products. Coverages are personalized and reasonably priced. If you qualify for any of our discounts, you can do even better on price. Be sure to ask Univista Insurance about the discounts available to you.
There are different types of coverage that you can purchase for your car, among which are:
Bodily Injury: protects you from bodily injury and property damage. In case of damage to third parties, you will be covered from legal liability up to the limit of the monetary amount that you decide.

Integral and Collision: protection against a collision with another car or structure. Always keep in mind that you could pay a lot of money out of pocket, which is called the deductible.
Personal Injury Protection (PIP): The state of Florida requires that if your vehicle is a 4-wheeler, it must contain this coverage. If a car accident occurs, it pays for medical expenses for both you and the residents who live in your home over the age of 15. It is sometimes called "no fault" as it covers you even if you are not at fault for the accident.
Property Damage: If you or a family member is involved in an accident, insurance pays for damage to other people's property. When property is said, it also refers to objects such as fences, telephone pole or building. Even if you drive someone else's vehicle, this coverage protects you.
You may want collision and / or comprehensive coverage, with high or low deductibles and customizable liability limits. Univista is the only auto insurance Hialeah company you will need for your auto insurance needs.
Looking to save on your auto insurance in Hialeah?
If the answer is yes, you are in the right place. At Univista Insurance, we have more than 10 years of experience and thousands of satisfied Hialeah clients join our family every day. Contact our more than 500 licensed agents. Call (305) 995-0032 or fill out the form above and request your free quote without any obligation.
Current Hialeah car insurance prices from basic to full coverage
It is mandatory to have your vehicle insured if you live in Hialeah and have at least the basic coverage known as liability. With it, you can drive safely and quietly from point A to point B; without fear of being stopped by a policeman. You don't have to pay more than you owe for coverage that gives you full benefits and meets the requirements of the law.
The prices of car insurance in Hialeah are different for each person and will always depend on factors. Among them is your driving record, and the type of car you drive. At Univista Insurance we work with many of the best insurance companies. Our recommendation is that you contact our certified agents by calling (305) 995-0032. So you can get personalized coverage in the best price range in the Hialeah market.
If you're still driving without your Hialeah auto insurance, now is the time to do it. With more than 150 offices at Univista Insurance we have everything you need to insure your car. We offer you attention in Spanish with the best professionalism and treatment. We are pleased to help you!