HO3 Home Insurance Policy
What is HO3 Home Insurance Policy?
The HO3 Home Insurance Policy is the most common home insurance policy in the United States. It provides excellent coverage for your home and good coverage for your personal property. With the HO3, your home is covered on an open perils basis and your contents (personal property) are covered on a named perils basis. An open perils policy does not specifically list the perils your home insurance covers; rather, it lists the perils your home insurance does NOT cover. If the damage to your home is not caused by something on the exclusion list, then you have coverage. A named perils policy specifically lists the perils for which your personal property is covered. If something happens to your belongings that is not on the list of covered perils, you do not have coverage.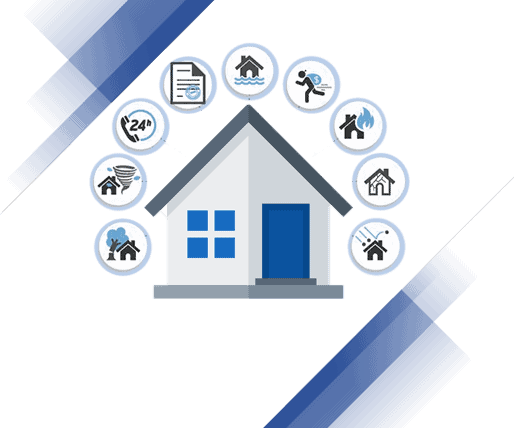 Get an HO3 home insurance policy!
Get Free Quote
By clicking "SEND", I agree to receive marketing via newsletter, text, automatic telephone dialing system, or by artificial/pre-recorded message from UniVista Insurance and its agents and affiliates at the telephone number I have provided. I understand that my consent is not required as a condition of purchasing any goods or services.
Exclusion List for Your Home
The only perils that are excluded on your home are:
Earth Movement
Ordinance / Law.
Water.
Power failure.
Neglect.
War.
Nuclear hazard.
Intentional loss.
Government action.
Collapse.
Theft to a dwelling under construction.
Vandalism or malicious mischief.
Mold, fungus, or wet rot.
Wear & tear, deterioration.
Mechanical breakdown.
Smog, rust & corrosion.
Smoke from agricultural.
Smudging & industrial operations.
Discharge, dispersal, seepage of pollutants.
Settling, shrinking, bulging, or expanding.
Birds, vermin, rodents, insects.
Animals owned by insured.
Perils Insured Against for Your Belongings
The 16 perils that your belongings are protected from are:
Fire or lightning.
Windstorm or hail.
Explosion.
Riot or civil commotion.
Aircraft.
Vehicles.
Smoke.
Vandalism or malicious mischief.
Theft.
Volcanic eruption.
Falling objects.
Weight of ice, snow, or sleet.
Accidental discharge or overflow of water or stream.
Sudden & accidental tearing apart, cracking, burning, or bulging.
Freezing.
Sudden & accidental damage from artificially generated electric current.
If something happens to your home and it isn't listed as an exclusion, then it is probably covered by your HO3 home insurance policy. Some HO3 home insurance plans have a named perils policy, which means it specifically lists what is covered. Regardless of the type of coverage, HO3 home insurance policy typically does not include floods and earthquakes in its perils coverage, according to the NAIC.
Why are we your best choice?
Do not wait any longer, buy HO3 Home Insurance Policy Today!
Call a Licensed Univista Insurance Agent Today!
UniVista Insurance
Offering the best insurance at incredible prices
UNIVISTA INSURANCE SERVICES: CALIFORNIA LIC# 0M12562